STA 2/5

"Through these doors pass the world's finest infantry men.

Out walks the world's deadliest weapon -- Marine Scout-Snipers."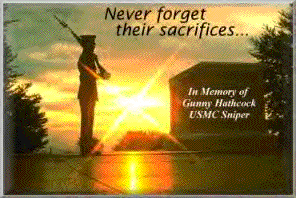 The Marine Corps sniper is a Marine who has been carefully screened, selected, and has undergone comprehensive training in advanced infantry and marksmanship techniques. The sniper's training, combined with the inherent accuracy of his rifle, firmly establishes him as a valuable addition to the supporting arms available to the infantry commander.
The scout-sniper is a Marine highly skilled in field craft and marksmanship who delivers long range, precision fire at selected targets from concealed positions.
The primary mission of a sniper in combat is to support combat operations by delivering fire on selected targets from concealed positions. The sniper also has a secondary mission of gathering information for intelligence purposes.
The sniper is a highly specialized supporting arm and the sniper team (two men) should be employed independently, when at all possible, to take full advantage of their skills and to increase their probability of survival.

Manufacturer: Specially trained armorers at Quantico, Virginia.
Length: 44 inches (111.76 centimeters)
Barrel length: 24 inches (61 centimeters)
Rifle twist: 1 in 12 right hand
Weight: 14.5 pounds (6.58 kilograms)
Bore diameter: 7.62mm x 51 NATO (.308 Winchester)
Maximum effective range: 1000 yards (914 meters)
Muzzle velocity: 2550 feet (777 meters) per second
Chamber pressure: 50,000 psi
Scope length: 12.5 inches
Scope weight: 2 pounds
Trigger pull: 3 - 5 pounds
Magazine capacity: 5 rounds
Unit Replacement Cost: $2,105
Features: The is based on the Remington model 700. It is a heavy barrel, bolt action, magazine fed 7.62mm rifle that is optimized for accuracy with Match Grade ammunition. The rifle is equipped with a special 10 power fixed John Unertl sniper scope with duplex reticle and Mil Dots. With the 2 pound scope, the rifle weighs approximately 14.5 pounds. It is equipped with a built-in five round magazine. This weapon is handmade by specially trained and qualified armorers at Quantico, Virginia. The unique characteristics of the M40A1 Sniper Rifle are: Commercial competition-grade heavy barrel, McMillan fiberglass stock and butt pad, modified Winchester Model 70 floor plate and trigger guard, and modified and lightened trigger. In addition, each stock is epoxy bedded for accuracy and all weapons must shoot less than one minute of angle (MOA).
Background: The M40A1 was put into service in the 1970s to meet the need of a long range sniper rifle. Each rifle is hand built by specially trained and qualified personnel at the Marine Corps Marksmanship Training Unit (MTU) at Quantico, Virginia.
Caliber. . . . . . . . . . . . . . .7.62x51mm NATO (.308 Win)
Length . . . . . . . . . . . . . . 44.25" (1124mm)
Weight . . . . . . . . . . . . . . 16.5 lbs (7.5 kg)
Barrel . . . . . . . . . . . . . . . Schnider Match Grade SS #7
Barrel Length. . . . . . . . .24 inches (610mm)
Trigger Weight . . . . . . . 3 to 5 pounds
Magazine Capacity. . . 5 rounds
Sight. . . . . . . . . . . . . . . . Unertl 10x with Mil-Dots and BDC.
Stock. . . . . . . . . . . . . . . .McMillan Tactical A4
Max Effective Range. .1000 yards (915 meters)
In 1996 the USMC started on the design for the replacement of the M40A1, the result was the M40A3. It uses a Remington 700 short action, with a steel floorplate assembly and trigger guard built by D.D. Ross. The Unertl rings and bases have been replaced with D.D. Ross base and G&G Machine rings. The rifles also come with a Harris bipod and an accessory rail, also built by G&G Machine. The stock is a new McMillan A4, with adjustable cheek and length of pull.
As the M40A1's rotate in for service and repair, they are replaced by M40A3's. All M40A3's are built by USMC armorers at Quantico Virginia. The M40A3 is an outstanding replacement for the aging M40A1's. The rifles are extremely accurate, very rugged, and are designed from the ground up to be a superb sniper rifle. Combined with the new M118LR ammo, it makes a system that is ranked with the best in the world.

Manufacturers: Barrett Firearms Manufacturing, Inc. and Unertl
Length: 57 inches (144.78 centimeters)
Barrel length: 29 inches (73.67 cm)
Weight: 32.5 pounds (14.75 kilograms) (unloaded)
Bore diameter: 12.7mm (.50 Caliber)
Maximum effective range on equipment-sized targets: 1800 meters
Muzzle velocity: 2800 feet (854 meters) per second
Magazine capacity: 10 rounds
Unit Replacement Cost: $6,000
Features: The is a semi-automatic, air cooled, box magazine fed rifle chambered for the .50 caliber, M2 Browning Machine Gun cartridge (.50 BMG or 12.7 x 99mm NATO). This rifle operates by means of the short recoil principle. The weapon system is comprised of the rifle (M82A1A) with a Unertl 10-power scope and an additional box magazine. The system comes packed in its own watertight, airtight carrying case with an air release valve for aircraft transportation and the requisite cleaning rod and brushes. The basic M82A1A rifle is equipped with bipod, muzzle brake, carrying handle, metallic sights, and 10-round box magazine. There is also a back pack for cross country transport and a bandolier for extra magazines is available.
Background: The M82A1A is designed to provide commanders the tactical option of employing snipers with an anti-materiel weapon to augment the present anti-personnel M40A1 7.62mm weapon. The rifle is manufactured by Barrett Firearms Manufacturing, Incorporated of Murfreesboro, Tennessee. The scope is manufactured by Unertl to match the trajectory of .50 caliber Raufoss Grade A (DODIC A606), which is the standard operational round.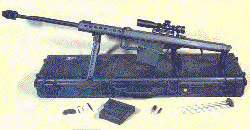 Primary function: Daytime telescope for making ground observations.
Manufacturer: IMO, VARO, Garland, Texas and various other vendors
Length: 13.5 inches (34.29 centimeters)
Weight (without tripod): 2.75 pounds (1.25 kilograms)
Magnification: 20x
Unit Replacement Cost: $511
Features: The M49 Observation Telescope is a prismatic optical instrument of 20-power magnification. The telescope is used for making ground observations of a target area and effectiveness artillery fire. Having no reticle, it is not used as a sighting device. The basic components of the M49 are the objective assembly, body tube, prism housing assembly, and eyepiece assembly with focusing sleeve. The front end of the body tube extends 3/4 of an inch beyond the objective, thereby providing a permanent sunshade. The telescope is furnished with an objective cover and an eyepiece cover cap which are screwed in place to protect the lenses when the telescope is not in use. Associated equipment is the M15 Tripod which has adjustable metal legs and a carrying strap. It allows for full rotation of the mounted telescope.
Background: The M49 has seen several decades of general purpose use as a daytime observation device. Its most common application is in the scout/sniper section of the infantry battalion where it is used to detect and identify targets.
GONSALVES, HAROLD Medal of honor Citation
Rank and organization: Private First Class, U.S. Marine Corps Reserve. Born: 28 January 1926, Alameda, Calif. Accredited to: California. Citation: For conspicuous gallantry and intrepidity at the risk of his life above and beyond the call of duty while serving as Acting Scout Sergeant with the 4th Battalion, 15th Marines, 6th Marine Division, during action against enemy Japanese forces on Okinawa Shima in the Ryukyu Chain, 15 April 1945. Undaunted by the powerfully organized opposition encountered on Motobu Peninsula during the fierce assault waged by his battalion against the Japanese stronghold at Mount Yaetake, Pfc. Gonsalves repeatedly braved the terrific enemy bombardment to aid his forward observation team in directing well-placed artillery fire. When his commanding officer determined to move into the front lines in order to register a more effective bombardment in the enemy's defensive position, he unhesitatingly advanced uphill with the officer and another Marine despite a slashing barrage of enemy mortar and rifle fire. As they reached the front and a Japanese grenade fell close within the group, instantly Pfc. Gonsalves dived on the deadly missile, absorbing the exploding charge in his own body and thereby protecting the others from serious and perhaps fatal wounds. Stouthearted and indomitable, Pfc. Gonsalves readily yielded his own chances of survival that his fellow marines might carry on the relentless battle against a fanatic enemy and his cool decision, prompt action and valiant spirit of self-sacrifice in the face of certain death reflect the highest credit upon himself and upon the U.S. Naval Service.
Medal of Honor, 1st. Lieutenant William Hawkins, 1943 (posthumous)
For valorous and gallant conduct above and beyond the call of duty as Commanding Officer of a Scout Sniper Platoon attached to the Second Marines, Second Marine Division, in action against Japanese-held Tarawa in the Gilbert Islands, November 20 and 21, 1943. The first to disembark from the jeep lighter, First lieutenant Hawkins unhesitatingly moved forward under heavy enemy fire at the end of the Betio pier, neutralizing emplacements in coverage of troops assaulting the main breach positions. Fearlessly leading his men on to join the forces fighting desperately to gain a beachhead, he repeatedly risked his life throughout the day and night to direct and lead attacks on pill boxes and installations with grenades and demolition. At dawn on the following day, First Lieutenant Hawkins returned to the dangerous mission of clearing the limited beachhead of japanese resistance, personally initiating an assault on a hostile fortified by five enemy machine guns and, crawling forward in the face of withering fire, boldly fired point-blank into the loopholes and completed the destruction with grenades. Refusing to withdraw after being seriously wounded in the chest during this skirmish, First Lieutenant Hawkins steadfastly carried the fight to the enemy, destroying three more pill boxes before he was caught in a burst of Japanese shell fire and mortally wounded. His relentless fighting spirit in the face of formidable opposition and his exceptionally daring tactics were an inspiration to his comrades during the most crucial phase of the battle and reflect the highest credit upon the United States Naval Service. He gallantly gave his life for his country.
Counter-Sniper/Gunfire Detection System. The counter-sniper system manufactured by the French company Metravib has potential to enhance the protection of U.S. forces deployed in the Balkans by providing location of sniper and harassing gunfire. This project is evaluating the French item with the objective of type classification and fielding to meet a U.S. Special Operations Command, Europe requirement.