Content

"Some people spend an entire lifetime wondering if they've made a difference. The Marines don't have that problem."
-- President Reagan, 1985


Thank you Trellix for design format, Tripod for hosting, and Web Monkey for the education.
Thank you "Grunt the Ultimate Military site" for my first award.
Thank you Military World for my second award.
Thank you Operation Arlington Ridge for my third.
Thank you Gyrene World for my fourth.
Thank you Herc's Hooch for my fifth.
Thank you Leatherneck.com for my sixth.
Thank you Patriot Files for my seventh.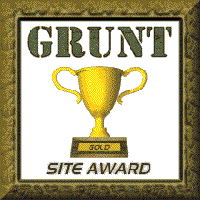 "SIMPLY THE BEST" An Award ~arlingtonridge/dove02.gif"From Freedom Berdís Nest