GySgt. Phil Jordan

Gunnery Sergeant Phillip Andrew Jordan, 42

April 20, 1960 - March 23, 2003
Home Town, Brazoria, Texas.
Resided in Enfield, Conn.
Charlie Company, 1st Battalion, 2nd Marine Regiment, 2nd Marine Expeditionary Brigade. Camp Lejeune, N.C.
Phil died in Iraq March 23, 2003 near An Nasiriyah, Iraq.
There is now a
Facebook page
in memory of Phil. Post pics and share your memories there.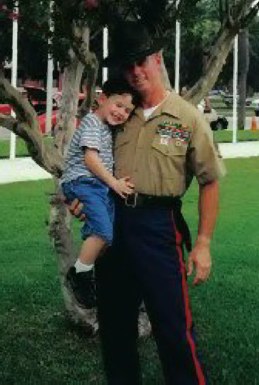 | | |
| --- | --- |
| SSgt. Phil Jordan and his son Tyler in May '02 at Parris Island, S.C. | Tyler Jordan, 6, Phil's son |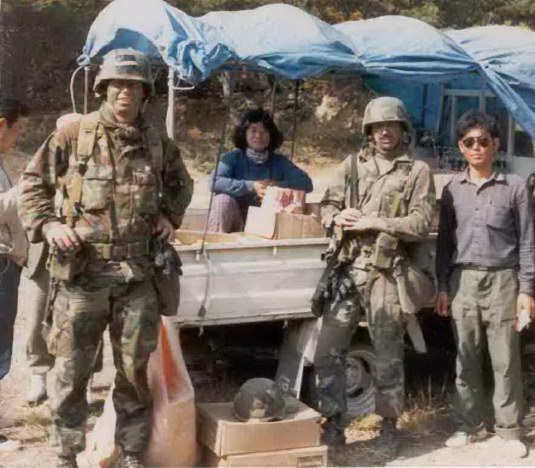 Cpl Phil Jordan and Sgt Ron McCormick hooking up with the moon pie man. Hokaido, Japan November 1989. I will miss you brother. Semper Fi.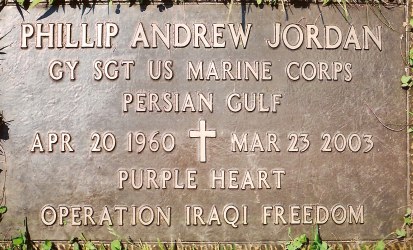 St. Patrick's King Street Cemetery overlooking the Connecticut River.

Phil's Marine Corps career:
MCRD San Diego Dec 1987 - Mar 1988 3rd RTBn
SOI MCB Camp Pendleton Mar 1988 - May 1988
Golf 2/5 May 1988 - Feb 1989
H&S 2/5 Feb 1989 - Jul 1992
Operation Desert Shield Dec 1990 - Jan 1991
Operation Desert Storm Jan 1991 - May 1991
Operation Sea Angel Bangladesh May 1991
SOI MCB Camp Pendleton Jul 1992 - Jul 1995
Alpha Co. 1st Bn 6th Marines Jul 1995 - Jun 1999
SNCO Academy Camp Lejeune Feb - Mar 1996
RTR MCRD Parris Island Jul 1999 - Oct 2002
Drill Instructor, Senior Drill Instructor, Series GySgt, Company 1stSgt.
Charle Co. 1st Bn 2nd Marines Oct 2002 - Mar 23, 2003
KIA Operation Iraqi Freedom
Phil's medals, ribbons and awards: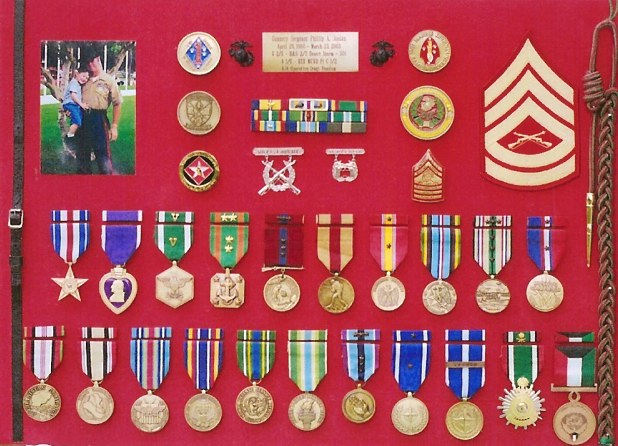 Hi Ron
I have mailed you a thank you note from, myself, Tyler, and my parents for the beautiful medal display and case. We even built a special wall just to hang it on! I also sent pictures of the new staff academy in Quantico named Jordan Hall after Phil. I hope this email finds you and relays our gratitude and well wishes. We so appreciate your acknowledgement of Phils sacrifice and wish you and your family well in the new year.
Amanda Jordan



























Silver Star
Purple Heart
Navy Commendation Medal with V
Navy Achievement Medal (2 gold Stars)
Combat Action Ribbon (1 gold star)
Joint Meritorious Unit Commendation Ribbon (2 bronze oak leafs)
Navy Unit Commendation Ribbon
Coast Guard Unit Commendation
Navy Meritorious Unit Commendation Ribbon (1 bronze star)
Coast Guard Meritorious Unit Commendation
Good Conduct Medal (3 bronze star)
Marine Corps Expeditionary Medal
National Defense Medal (1 bronze star)
Armed Forces Expeditionary Medal
South West Asia Service Medal (3 bronze stars)
Kosovo Campaign Medal (1bronze star)
Afghanistan Campaign Medal
Iraq Campaign Medal
Global War on Terrorism Expeditionary Medal
Global War on Terrorism Service Medal
Korea Defense Service Medal
Armed Force Service Medal
Humanitarian Service Medal (3 bronze stars)
Navy Sea Service Deployment Ribbon (1 silver star)
Marine Drill Instructor Ribbon
Coast Guard Special Operation Ribbon
NATO Bosnia Medal (1 bronze star)
NATO Kosovo Medal
Saudi Arabia Liberation of Kuwait Medal
Kuwait Liberation of Kuwait Medal
Rifle Expert
Pistol Expert
Certificates of Commendation (1)
Meritorious Masts (5)
Letters of Appreciation (4)
His travels included: Guam, Japan, Korea, Greece, Malta, Somalia, Spain, Portugal, Turkey, Israel, Okinawa and Kuwait.
Tributes to Phil -
Fallen Heroes Memorial
Corps Stories