Jordan Hall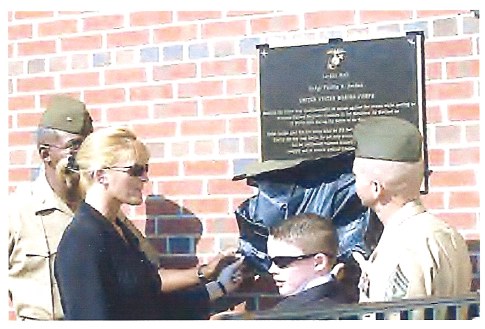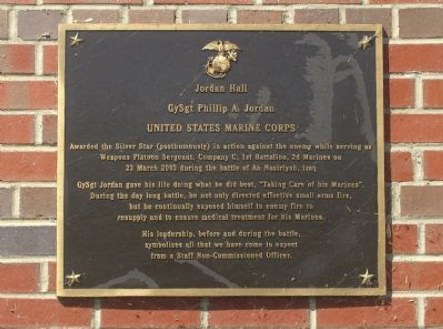 | | |
| --- | --- |
| The plaque was revealed Sept. 22 by Jordan s wife Amanda Jordan and her son Tyler, 9. | The memorial plaque of Gunnery Sgt. Philip Jordan, fastened to the walls of the newly dedicated Jordan hall. |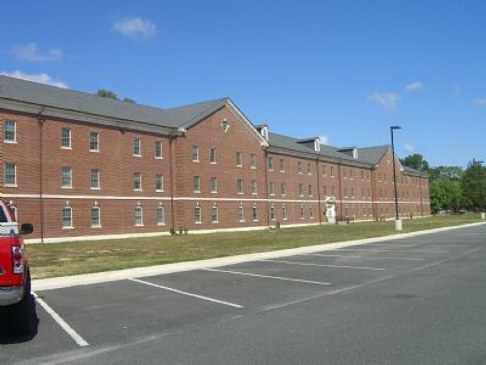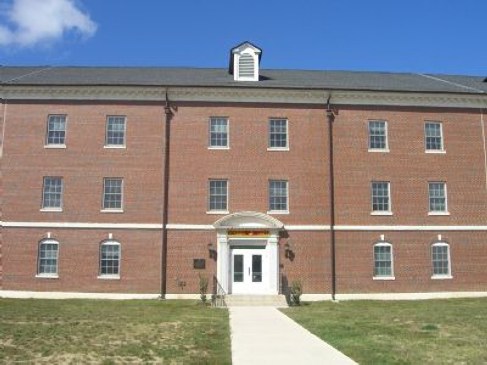 | | |
| --- | --- |
| Jordan Hall, SNCO Academy, Quantico, Va. | Jordan Hall, SNCO Academy, Quantico, Va. |
The Staff Noncommissioned Officer Academy Bachelor Enlisted Quarters was dedicated and named in honor of Gunnery Sgt. Phillip Jordan, a Silver Star recipient who was mortally wounded in combat during a firefight in the city of An Nasiriyah, Iraq, March 23, 2003.
The ceremony took place at the newly dedicated Jordan Hall Sept. 20 at the Staff Noncommissioned Officer Academy with Jordan's wife Amanda, son Tyler, 9, family and guests in attendance.
During the ceremony, members of the SNCOA who reside in Jordan Hall shaped the ceremonial formation placed in the front of the building.
Jordan served as a weapons platoon sergeant for Charlie Company, 1st Battalion, 2nd Marine Regiment in Camp Lejeune, N.C., when he was called to action in the summer of 2003. He served under Regimental Combat Team 2 as part of Task Force Tarawa during Operation Iraqi Freedom. As the team pushed north into Iraq, they came under fire during the assault on the city of An Nasiriyah. Jordan was mortally wounded while resupplying Marines and directing his team to lay down fire on an enemy 60mm mortar trench.
Jordan's actions earned him the Silver Star with combat distinguishing marker.
"He laid down his life for his country," said Brig. Gen. Ronald L. Bailey, deputy director, J-3, National Military Command Center. "In the intensity and chaos, he responded to actions with energy, pride and mental toughness as he risked his life to resupply his Marines."
"Your father is a hero," continued Bailey as he spoke to Jordan's son, Tyler. "This is your building now Tyler and this is your Marine Corps family."
During the ceremony, Jordan's wife and son were brought to the front to be presented plaques which contained ribbons and badges including Jordan's Silver Star, which laid within. The commemorative inscriptions told his story of gallantry and his achievements in the Corps.
"It is kind of strange but feels good to celebrate my dad with this building," said Tyler Jordan. "Losing a dad doesn't happen to a lot of people my age."
Tyler continued to speak of how good it is that he is a part of the Marine Corps family and that he is glad to be surrounded by good people who care.
After the ceremony guests were invited for refreshments and to tour the barracks which housed its first Marines in May. Construction of the 150 two-man room barracks began in spring of 2003.
"It is a privilege to work as the BEQ manager, for Jordan Hall," said Sgt. Adam Hernandez. "It is great to have the responsibility of housing Marines here and keeping up with the building and its needs."
"I think this ceremony was most important for Tyler," said Amanda Jordan.
"Over time, some people forget that someone like Tyler has to grow up without a father. This building is something permanent and stands as a memorial for him. I am so very thankful that my husband was chosen to be remembered here."